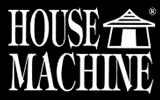 14. the contacts
At the moment, House Machine is most of all a djs and artists agency involved 100% only in the House Music scene.
And Dan-E-Mc that is one of the founders is still one of the fondamental element of the "House Machine Sound System". We can organise parties in your club, discotheque, villa, castle, hotel, etc ... From a month's schedule until an big international event with (or not) fashion shows and parades and/or live musicians ... All depends on the budget! If you are interested in being a sponsor of a House Machine event, depending on the budget, we can do it in every place and every city. Our experience in Italy and internationally has given us experiences to work with all kind of situations; from friends events of 100 people until National States (for ex: Swiss Expo.02), any multi-nationals events (for ex: British American Tobacco) and banks (for ex. Pictet).
All the things have a price, not all have a value.
House Machine means quality in the House world. From 1994!

... If you need more about us ...




HOUSE MACHINE S.N.C. – VAT NUMBER 02547420162 – ITALY

Head office
Bergamo/Italy

Mobile 24h/24
+39 347.25.60.330

General Informations
housemachine@housemachine.com

Marketing, Public Relation & Worldwide Management
omar.ravasio@housemachine.com | +39 340 977.55.67

Dan-E-Mc
danemc@housemachine.com