April 1, 1994: for the first time House Machine is on the air. A radio show created by 2 guys called Dan-E-Mc and Mrf. But who are these guys ?

In 1985, both are 15 and hip-hop orientated. They organised real hip-hop events in a city like Geneva that was very rock-music orientated..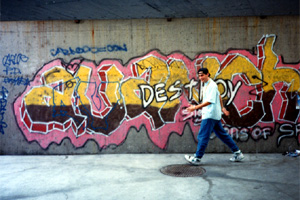 Dan-E-Mc was a dj and a rapper. He has done any apparitions in some big swiss events with any of his hip-hop/rap tracks. He arrived until semi-finals of DMC Switzerland in 1986. His most favourite group of this period was the PE, Public Enemy!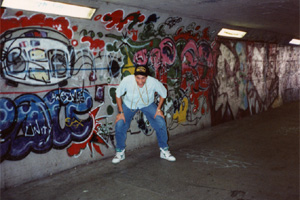 Mrf was a very good dj that mixed and scratched in the best quality hip-hop parties in Geneva, any of them that he organised himself or with friends of him.
But a track made both guys crazy... It wasn&'t hip-hop/rap, but something new, something fresh, coming from a dj called Tony Humphries ... Indeep and "Last night a dj saved my life"...
This record was the first of a long serie of new tracks buyed by Dan-E-Mc and Mrf in a house way. No more hip-hop, rap in their dj boxes but house&'s coming! In the beginning of 1988, both were customers of any record shops in Geneva but they weren&'t friends. They were both buying the same stuff, their choices were evolving in the same time and in the same way, but they only say "hello hello" when they met themselves. In September 1988, House music exploded in Geneva in a club called Le Palais and Dan-E-Mc (who was one of the resident djs) became a little bit famous in this city. The record-cult of this period was ROYAL HOUSE "Can U Party ?". This track played in a place like Le Palais in this period was incredible!
It was strange to see that a city orientated rock-music like Geneva is, discovers the new sound called house each saturday night at Le Palais. Mirco Many (a dj from Geneva) had organised successfully a lot of big events in Montreux, Lausanne and Neuchâtel, but in Geneva nothing happened successfully before Le Palais. And Mrf ? He organised house events (himself, too... So: no more hip-hop events...) at places called Eclipse, Abarc that were after-hours of Le Palais... This was the period of Todd Terry&'s productions...
In 1992, Mister Siamak (the owner nowadays of Meyrin FM with the friend Stéphane Miranda) decided to create an alternative radio station in Geneva. He asked Dan-E-Mc to be part of it. Then he asked Mrf the same. Both agreed without knowing that the other one was involved in this radio project. Mrf was on the air with house music on Thurdays and Dan-E-Mc (with his program called DJ Department) went on Fridays with house and hip-hop. David Morales and Def Mix were on top in this period!
Both radio programs were going very well and also the radio station was very heard by all in Geneva. So, it was decided to do an event of the radio station at Le Palais.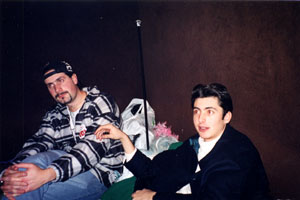 The club was full full full ! 2000 people inside ! From 8 P.M. The entries were already full of people and at 10 P.M. The place was full ! The party stopped at 6 A.M. With Mrf and Dan-E-Mc that gave them the change on the wheels during all night ! Hey ! Yes ! This was the first time that both djs began their friendship...
After this big event, both djs remained always together and began to organise parties together. The strange thing is that both have growned up in the same place (Vernier, near Geneva center), but they never saw each other there before... They discovered to come both from the same bronx of Geneva! The first parties that they organised together were the ones at Arthur&'s (in this period this was a new club with the goal to be the hip club in Geneva), than to the direct concurrency of Arthur&'s , the Macumba, where they began to call their friends to come to play (in France in this period, it was very new to call foreign djs to come and play !). The first dj called, was Stefano Fontana. Then, on September 8, 1993 they organised the first house/underground event in Geneva with famous djs like Stefano Fontana, Ivan Iacobucci, Uovo, Massimino Lippoli, with Mrf, Dan-E-Mc and Mirco Many that was the organiser of a lot of big house events in the rest of French Switzerland.
In this period, Dan-E-Mc was studying at the University of Bergamo and organised parties with Mrf in clubs like Le Grillon (famous place for the beginning of Stephan Mandrax) and most of all for the new project of Mirco Many for creating the first club 100% house orientated and called CPM club.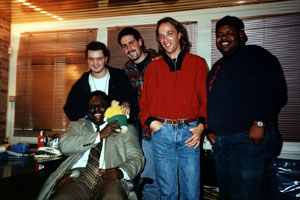 First date: Claudio Coccoluto as guest ! The second big date of CPM club was with Ivan Iacobucci as guest.
At the end of his set, Iaco talked with Dan-e-Mc. He told him that he had all the contacts, he had to create something new in the house scene to grow up. This discussion remained in Dan-E-Mc&'s head for a few months, then he had the idea to do a radio show that could be distributed to radio stations. So, he asked radio stations ... And found the name of the show as "House Machine", because:House was necessary because this show was the promotion of this kind of music and also because the word house is very nice...
Machine, because house music is like a train to dance...
All began at 10 P.M. on April 1, 1994 on Lady radio 105 (a station based near Milan)... For the 1st time the 100% house music radio program called House Machine sounded!!
Then, the program went on every week-end with little until big house guests like these: Ivan Iacobucci, Claudio Coccoluto and Gianni Bini (Fathers of Sound).
So, this product created by 2 big friends (Dan-E-Mc & Mrf) interested in house music, began for fun, but, with a little bit time, became a meeting point for important house people.
And, after 6 mounths, it won the Grandprix as "Lombardia's innovative radio show".
The 18st of November 1994, House Machine went to Geneva and rebegan from a professional studio called Zerodibì Geneva to a lot of Italian radios. After then, when it was in Geneva, House Machine agreed to be promoted by the famous Swiss dj agency of this period: UDM Promotions.
In Switzerland, UDM Promotions and House Machine have organised true house parties at the first real house club of Geneva (which is dead now), the famous CPM club..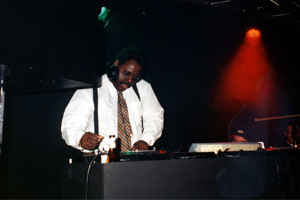 In this one all the best and well-known house djs in the world have played; from Tony Humphries to Ralphi Rosario, Benji Candelario, Freddy Turner, Claudio Coccoluto, Danny "Buddha" Morales... Those ones were interviewed by HM, then their gigs where recorded and broadcasted on House Machine.
In Italy, with the program on the air on many and always more important radio stations, House Machine growned up and became into the real Italian house scene, collaborating with the best dj agency of this period (Groove connection, Subterranea project), clubs (Red Zone Perugia, Crossover Turin), dj shops (Disco Inn Modena, Disco+ Rimini) and respectable Italian house gangs (Latin superb Posse).
The story went on in Switzerland too, because the 1st of November 1995, House Machine was broadcsted on Couleur 3, the Swiss national broadcast, and it became a fixed appointment of C.3's program called; "Metissages".
During this time, in Italy, House Machine was guest in the most important Italian house parties, like 31st of October 1995 "The Bomb" at Cyborg near Rome and February 1996 "Nobody's Land" near Rimini.
The 1st of February 1996, House Machine decided to promote its product without UDM Promotions.
By the new Italian house talents Gian Piero Mendola, Steve Mantovani and Daniele Mad, Dan-E-Mc (the creator o' HM) was invited to produce a record called "House Machine tracks". This record was on "Who's di selecta?" records printed and by Dig-It Italy distributed, it was played by Italian house radios like Italia Network and was included in the house compilation "I love America". After this little success we talked a lot about creating a record label of House Machine... But it never happens ! Until now...
Coming back to the beginning of House Machine, we discover that at SIB '96 in Rimini, House Machine was invited as guest with important Italian radio-Tv shows that played house music in this period; Italia network, Match Music, One-O-One network, Crazy Dance, etc... For a party called "Black Station, Underground station" at Pascià Riccione.
Then, House Machine had its own stand in Nightwave '96 and from this date, it decided to sell an official and very "wanted" merchandise with the little house of the logo on it.
On May 1997, the House Machine's head office taked place in Italy definitely.
The 22nd of June 1997, House Machine was part of the first Italian "Streetfestival" in Rome near the Coloseum with the best djs of the world house scene.
From September 1997, House Machine has covered 80% of Italy with big Italian radio stations. So, now we can say that House Machine is a product well-known in all Italy with the radio show and with the parties done in all different places of this Country.
The Italian radio magazines and t.v. programs have understood that now House Machine is a reality and they have done "specials" about HM (Radiomania magazine and Match Music television, for exemple).
A House Machine's tour 1998 was organised successfully in true underground clubs. Here are any places we it was guests:
- 7th of March 1998: Underground City at Popoli (Pescara)
- 3rd+4th of April 1998: privé of Prince at Riccione
- 9th of April1998: By-Pass club at Geneva (Switzerland)
- 11th of April 1998: Red Zone at Perugia
- 12nd of April 1998: Juice® at Florence
- 6st of June 1998: Rise, the Ripping's privé at San Teodoro in Sardinia
15th of November 1998, Marriott Hotel in Milan, House Machine received the trophy "Italia che lavora" (Italy is working); the biggest gratitude given in Italy for the companies.

April, May and June 1999; House Machine has organised an European Tour for the promotion of its logo. Thanks to this Tour House Machine has verified that its own mark was well-know and respected all over Europe, that's why it decided to give itself an intercontinental Blast!
22nd of August 1999 "Party in the woods", the real house party in the wood was organised in the National Park of the Maiella (Abruzzo) with all the most famous names of the house scene with the collaboration of House Machine, too.
House Machine's creator, Dan-E-Mc creates a new radio show of soul, r'n'b, hip-hop & funk called Soul City. First aired: radio Pianeta (Bergamo/Italy) 17th of September 1999 at 9 P.M.
In January 2000, the staff of HM begins the organisation of the most important and ambitious project of its young but very exciting career: House Machine® - World Tour 2000...
The House Machine's come back on "Métissages" Couleur 3 during June 2000 has permitted a successfull Swiss return for House Machine and in particular way in the best House club in Switzerland, the D!
A lot of House Machine parties have been organised in the most important place in Switzerland from July 2000 with residencies of Dan-E-Mc and guests like Mrf, Gian Piero Mendola, Sauro Cosimetti, Joe Montana and Ivan Iacobucci... It was magnificent to see so many beautiful House people together in the same place for the House Machine's come back in Switzerland in the best club.
House Machine has been called for his help in old House situations and clubs closed to re-open and re-promote them in a House way.
That's why Gian Piero Mendola and Dan-E-Mc have played in New Years Eve in the legendary club in Sardinia called Nottambula. This club was for a long time closed or opened for short commercial situations, but now it has re-opened with the House Machine Crew in the way to do only quality House music.
Always in this way, Dan-E-Mc has been invited in January 2001 at the first party of the new Arti-show that is the place where there was the old CPM (first House club in Geneva). This place has the same story that Nottambula has; closed and opened but without success. Now it seems that the owners want to do quality House with House Machine's experience.
From February 2001 House Machine organized House parties in a club that was its own when in Geneva. We are talking about the old Gallery of Sound in the industrial zone of Geneva. The residents now are the two swiss friends Steve Price and Bart.
March 31, House Machine has done its birthday party at New Open Gate in Cagliari (Sardinia island).
April 7, House Machine re-opens the glamourous CPM club of Geneva with this name: CPM.2. During this night, the guys that played there are two of the first guests of the CPM club on... April 8 1994: Ivan Iacobucci and Dan-E-Mc.
April 29, 2001; House Reference and House Machine re-open Casinò de la Rotonde to their Neuchâtel's House people. An historical place for big House events. The party is called Pascià with all the Pascià staff; Massimiliano Beca, Vanessa J and the animation of the famous club of Riccione. Three days before this party, all pre-tickets were sold!
Summer 2001 will be House Machine orientated.
The famous HM crew will be resident at a new club called Alta Vista (Ex-Cellophane) in Rimini. The staff, composed by Steve Gandini has taken the experiences of the major Italian House situations to put them in this club; Mazoom, Le Plaisir, Red Zone, Fura, Pineta De Luxe and House Machine. House Machine (with its representative in Rimini's zone, Massimiliano Beca) will have the musical direction of the club for all Mondays and Tuesdays. That's not all, because House Machine will have other HM events in Italy (Estasi's Disco, the beach of Cagliari...) and Foreign Countries (Pacha of Palma of Maiorca...).
Technically, House Machine made its own revolution on October 2001. They decided to stop post expenses and use MP3 to send the show to all radio stations. This was immediately a success; international radio stations like Hurricane FM at Den Haag (Holland) said "yes" to broadcast the HM's show.
For HM, the end of 2001 means Private House Parties and/or fashion parades for important marks in European Villas and Luxurius Hotels with true Soulful Garage House Sound, (exemples: Villa "La Cigale" for Christmas "Mon Tresor" for New Years Eve).
In February, House Machine came back in the most Soul club of Sardinia called FBI. Intro was hip-hop and then Dan-E-Mc put his Soulful garage... Atmosphear was explosive at FBI on February 8, 2002!!!
From the end of March until beginning of April, House Machine toured Europe for its 8 years old birthday. During this tour HM stopped at By-Pass (the club of a old friend of HM Mirco Many) and also in a 5 star hotel near Bologna.
In the middle of April, Dan-E-Mc has done 2 parties for his 31 years old as a man and 19 years old as a dj in these clubs: Basement and Soulfood Café.
During this time and for the date of May 2, 2002, Platinum club in Geneva asked House Machine for organising the biggest party in this city for the last 6 months... A party with Roger Sanchez !!! Opening party with Dan-E-Mc, entry CHFRS50.- for a Thursday and pre-paid tickets sold out one week before the party !!!
And, on the foreign front, House Machine is included in the Swiss National event called Expo.02. HM party is at Arteplage Yverdon with these guests: Michael Watford (the voice !), Andy Funk (The Soul sax!), Vanessa J (Riccione's best female vocalist!) and the dj will be Dan-E-Mc (the creator of HM)... A party absolutely Ssssoul !!!!!!
July 1, 2002 The FM radio show stops, to become a new Internet radio station in the near future.
August 2002, Dan-E-Mc was in tour with House Machine in Belgium, Holland and Germany.
October 2002; Due to the new direction at D! club in Lausanne, House Machine did its last party at D! on October 11, 2002. And... House Machine came back at the most important Italian house club, called Red Zone on October 31, 2002 (in a Halloween party) with Joe Claussell, Ivan Iacobucci (the padrino) and Dan-E-Mc as guests + the residents Sauro and Ricky L.
March 2003: "House Machine - Internet radio station" 24 hours a day, started!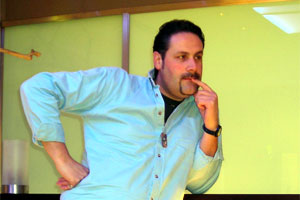 From March 2004, Dan-E-Mc creator and still owner of House Machine is touring for the birthday of the leggendary trademark of the little house.
This tour stopped in historical clubs like Red Zone Perugia, Les Caves in Geneva and in Countries like Canada, France, Germany, Spain and Poland and will go on until all 2004. We must remember also the StreetFestival on the way from Rimini to Riccione following the beach, that was organised by the Italian political group called Italia dei Valori of Antonio Di Pietro.
From April 17 until July 2004, House Machine was Art and Musical Director of Tipitinas in Lovere (Bergamo) directly in front of Lake Iseo. Its goal was to re-gold the image of this magnificient club. And Dan-E-Mc was the resident dj.
The House Machine tour 2004 went on until May 1, 2005 (when we were partying from one month also the 11st year of HM...) in Daniel P&'s villa near the Lake of Como.
Since June.05, Dan-E-Mc is working for his first album. Not a simple dj mix, but a real long playing one ! ... As requested by Mister Manlio Cangelli owner of MC Harmony...
House Machine has the Musical Direction of Gasoline (a new club near Bergamo) during Autumn 2005. Massimiliano Beca and Nick Bridges (Ministry of Sound resident dj) play with Dan-E-Mc (the resident with his friend Ricky Deep) and all is broadcasted live on Viva FM.
On December.05, all 24 tracks of Dan-E-Mc's album are practically ready. Real musicisians and national plus international personalities have participated to this project including the swiss popstar and old friend of Dan-E-Mc called David Cunado, the speaker on TSR, the Swiss French TV.
January 20, 2006: the first double album of House Machine's creator is out !!! The title is DAN-E-MC from HOUSE MACHINE: "MANY MOODS OF A DJ" and the record label is: MCHarmony records.
March 2006, the first comments about the album from the house music scene are excellent (take a look to "The Discography").
The official party to promote that the album is on sale in shops has been done in Sardinia, at Charlie club in Cagliari on April 14, the birth date of Dan-E-Mc...
After all positive comments from the house scene about "Many moods of a dj" and after a South European tour, from September 2006, Dan-E-Mc is working for the new album.
November 2006: at the moment we know that the album will not be a double one (like the first), but it will be a long timing one and it will also contain a ...Slow ! Then, there will be 2 tracks that will go out from this new album with remixes on maxi-single formats, with the collaboration of important French people (some are old good friends of House Machine...).
Since February 2007, the new album of Dan-E-Mc is musically completely finished. What we can say is that the sound has been cured a lot and that the opus covers totally a cd (74 minutes of music !). At the moment we don't know when it will go out.
An other important news: the famous Baileys has taken the music of "Funky Chill" from "Many moods of a dj" of Dan-E-Mc for its Italian radio national advertising campaign, broadcasted on the major FM Stations. For listening to the spot, go to: "This is also House Machine".
It is official ! The album DAN-E-MC.attitude will be out on June 2007. There's a big movement around which label will sign it first and at the moment (April 2007) we don't know which one will print it. We only know that any single house/soulful tracks will be printed on the new French label of Didier Vanelli called Deepfull records.
July 2007: DAN-E-MC.attitude is out now, physically distributed worldwide by Self (Milan). The digital distribution has been given to the worlwide platforms of shaftmusic.fr.
September 28, 2007: a micro-tour was organised to promote DAN-E-MC.attitude in Italy, with events in Bergamo (the residence of the artist), in this places (in the right order) Lunetta's space, Tribeca and Bobino (all in the same night!). The night after, the tour took place at famous Prince (Riccione), with in the mix Didier Vanelli (French dj and remixer of the next -we hope- house hit called "Babylon" of Dan-E-MC & EMPHASISOUND), Dan-E-Mc and, guest of the party, also Mr Shaft. National ads of the album began on Radio Monte Carlo and on 2night Magazine.
January 15, 2008: you can find DAN-E-MC.attitude on internet in all the worldwide platforms of legal downloads.
End of February 2008: the track contained in DAN-E-MC.attitude and called "Babylon" will go out on cd-single and be placed on the French disco charts... September 2008: the new single track of Dan-E-Mc produced with his French friends De La Funk and call "Ball in the box" is downloadable everywhere. This song will be included in the new album of HM's creator (work in progress...).
November 2008, the 3rd album in 3 years of Dan-E-Mc is out, with a very good title if we see the period we are living: "Blasé".
In the beginning of December, Dan-E-Mc began a tour to promote the new cd. First gig at Coconut Winter in Rimini, with cameras of a tv show called Lucignolo (broadcasted on national Italia1). This tournée went on until end of February 2009. During this period a lot of tracks of "Blasé" were broadcasted on top10 on important radio stations like radio Norba (Italy) and House Sound of Hamburg (Germany).
Since March, House Machine organised its official 15 year old tour...
On Wednesday April 1, 2009, exactly 15 years after the creation of House Machine, Dan-E-Mc played at Domus club Perugia a unique dj set. Stars as customers there: Sauro Cosimetti (historical resident dj of Red Zone Perugia) and Sandrino Contu (one of the most important and historical P.R. in Italy).
Important event in July 2009, but, this time, not in a club... In a library! Dan-E-Mc publishes his first book "Dubbi Notturni (un dj in cerca di etica)" on Statale11 Publishing Vicenza (Italy). An Italian summer tour is organised in clubs but also in radio & tv lounges to promote this book. But this "dj arts teacher" (like any collegues call him from now) has also other things ready... During this month, two tracks taken from the forthcoming album "Rara Eleganza", out on September 2009 on the famous Italian Dance record label called Molto Recordings with collaborations with Shaft Music, Didier Vanelli, Lady B & Alan Drake. These two songs "The Jazz" and "Never give up" will go out on vinyl, cd-single and digital on Sound Division (the House sub-label of Molto).
November 6, 2009 Dan-E-Mc "Rara Eleganza", the new cd album out on Molto recordings end of September 2009.
Molto Recordings promtion about the cd is massive: radio ads, daily, Italian national, each hour and a half on the most represantative Italian house radio station called Radio Monte Carlo and via Shaft in France using the Music Box Live channel... After two weeks, in France all comments are great (also from non-house djs) and the record entered on TOP10 record sold "all styles and supports" of the most important and influent dj shop in Europe, Discopiù Rimini, becoming few times a "Restock" cd... Then the cd was taken to be sold by the big Italian distribution called Feltrinelli... And also Italian radio networks made this album as a reference in their websites, like radio Kiss Kiss...
Quickly, in December 2009, "Rara Eleganza" goes and remains on top10 cd sold in the most important dj shops in Italy (like Discopiù Rimini and Goody Music Rome...), comes on top2 with the track "Freak your body" on Global Groove UK "Soulful House Chart", has been included 7 times on the 13 track-list of the n.1 German house radio station House Sound of Hamburg and becomes the "House Album Of The Year 2009" (Lamixletter) in France ...
Molto recordings presented the cd album Rara Eleganza during Midem in Cannes in January 2010 and WMC at the end of March 2010, and Harley&Muscle presented their magnificent remix of Dan-E-Mc feat. Lady B & Ash: "Believe" in their dj sets. In February 2010, Rara Eleganza has been presented during the Official After Festival of San Remo 2010, at Victory Morgana Bay and during the Official Pre Festival of San Remo at Piazza Bresca (open air).
The Rara Eleganza - World Tour 2010 began at Victory Morgana Bay of San Remo on February, 17 2010, here are the official movies on You Tube:
Important news for all House Machine Radio Show fans... From March 2010, the radio program comes back on FM frequencies of Radio Party Groove, and also to all its national and international radio network, with the slogan "Selected by Dan-E-Mc, mixed by Mirko Paoloni"... Absolutely unforgettable!!! And listenable each week also from this website, doing a click in the home where it is written NEW RADIO SHOW.
Coming back to Rara Eleganza cd album, the record was presented at the prestigious WINTER MIAMI CONFERENCE 2010 in March. And after 8 months of album's exit, at the end of June 2010, "Believe" the single-track taken from this cd goes out with remixes of TOP international producers like JAMIE LEWIS, HARLEY&MUSCLE and STEFANO AMALFI&ROBBIE GROOVE on vinyl and download Sound Division/Molto Recordings. During this period, here was the chart on Lamixletter France:
JAMIE LEWIS (PURPLE MUSIC) - TOP10 CHART
1.DAN-E-MC FEAT. LADY B & ASH: "Believe (Jamie Lewis Club Mix)" (Sound Division/Molto Recordings)
2.JOEY NEGRO - Still in love (Z Records)
3.JAMIE LEWIS - The light (Remix 2010) (Purple Music)
4.BAH SAMBA - Heat (Souldynamic Remix)
5.DARIO DATTIS - Face the music (Main Mix) (Purple Music)
6.JODY WATLEY - Tonight
7.ROLAND CLARKE - Run run run (Purple Music)
8.MISTERALF - You are calling me
9.GRANT NELSON - Black water
10.CYNTHIA MANLEY - Give (Jl Goes Disco Mix) (Purple Music)
After only 10 days, "Believe" becomes TOP4 of vinyl sold at Goody Music Rome, in 3 weeks the vinyl is TOP6 then SOLD OUT at Discopiù Rimini and SOLD OUT at Decks Germany (remaining in this mode practically during all August) and it was programed by all the TOP Italian house clubs in the best moment dj sets of djs in this important summer season period, all of these things help an other time the cd album Rara Eleganza to sell more copies again, and in the middle of August 2010, it results to be the TOP12 of the last 12 mounths ALL STYLES RECORD SOLD of Global Groove UK... During the most important summer event, on August 15, 2010, "Believe" has been presented with all its remixes during a private yacht event in the sea of Costa Smeralda (Sardinia) Italy with an amazing dj set of DAN-E-MC...
October 2010; BELIEVE was presented by MOLTO RECORDINGS at the important meeting AMSTERDAN DANCE EVENT with the album RARA ELEGANZA. During this period in Italy on RADIO PARTY GROOVE (n.1 house station in Piedmont), BELIEVE becomes TOP1 on CLUBOLOGY CHART!
On november 2010, one year after its exit, RARA ELEGANZA is SOLD OUT and is printed again! And after less, the vinyl copies of BELIEVE are sold out, too...
In January 2011, more than one year of the issue of RARA ELEGANZA's cd, here we go with an other important news about this album... Presented to professional at Midem in Cannes 2011, the issue on February 2011 of the cd-single and download of the second single FREAK YOUR BODY with remixes of the following TOP djs & producers: BOBBY&STEVE, PINO ARDUINI&DIEGO VENDOSSA, ALEX DIMITRI, ROBBIE GROOVE&DEMODE PROJECT, KIKKO ESSE plus the ORIGINAL ALBUM MIX. This song will be presented to public of all audiences during a live concert at Palafiori (Expo Palace) of San Remo for the OFFICIAL PRE FESTIVAL of SAN REMO 2011... Soulful House Music at its best... Sorry 4 to the rest!!!
On April 2011, after an international success series on the most important radio stations in the UK (Pressure FM, Colorful Radio and SSR Radio), France (Radio FG "FG Chic"), Germany (House Sound of Hamburg), Italy (M2O "Boulevard Robiony", Italia Network, Radio Norba, Radio Party Groove) and its presence on official TOP40 US DANCE CHART, DAN-E-MC feat. Ash & Lady B: "FREAK YOUR BODY (REMIXES)" is selected between all tracks that take part in the famous and elegant Italian summer 2011 compilation "PAPEETE BEACH CLUB", cd compilation done in joint venture on MOLTO RECORDINGS-UNIVERSAL MUSIC.
In a few months, the Dan-E-Mc feat. Ash & Lady B: "Freak your body (Remixes)" 's package took place in all important charts, worldwide. Immediately TOP20 downloads on Traxsource (Soulful house), charted on all important UK radio stations like SSR Radio, Pressure FM and Colorful Radio, until TOP9 of the official USA Dance Chart (TOP7 if we check in particular the radio & club broadcastings chart), charted until TOP2 on Media2Radio and TOP8 on Masspooldj (nominee for ANNUAL INTERNATIONAL DANCE MUSIC AWARD), until TOP16 (all musical styles and all supports) of n.1 Italian Dance music Distributor called Global Net and, last but not least, this song was also part of the tracklist of the most important Italian Dance summer compilation called "PAPEETE BEACH" (Molto Recordings-Universal Music) TOP9 of all types of albums sold in Italy end of April 2011.
After 2 years of the 1st issue of the cd album called "RARA ELEGANZA", here is "SEXY FANTASY" the 3rd track taken from it, a real record of longevity... In the middle of October 2011 with remixes by the quality HOUSE MUSIC legend TERRY HUNTER, the french DIDIER VANELLI and the Italian STEFANO AMALFI...
This remix became immediately TOP17 record sold on DJ Tunes, TOP19 on Juno Download, TOP4 of Terry Hunter tracks most downloaded on Beatport, it remained 2 months on TOP2 of Media2Radio USA and stayed for 3 months on TOP25 cd-singles record sold at Global Net Distribution (N.1 Dance music distributor in Italy)...
From July, Dan-E-Mc is back in studio to close all recordings for the most important album of his producer's career...
Dan-E-Mc is writing his second book...
From April 16, 2013, the 5th album and 2nd homonimic book "Man Of Honour" by Dan-E-Mc is out on Molto Recordings-Universal Music's joint-venture... The most ambitious artistical project of House Machine's founder. The opus was presented at Pascià Riccione during Nightshow with an unforgettable live session of Vanessa Jay Mulder, Gabriele "Gabry Sax" Zeppegno, Michele "Wah-Wah Funky Guitar" Gentilini and Dan-E-Mc...
The album was immediately TOP1 of German radio broadcast House Sound Of Hamburg, TOP2 albums sold on Juno Download and TOP3 albums sold all styles on Traxsource and this, during 1 month! And if we gave an eye to physical sales, the CD was immediately TOP5 albums sold all styles on Discopiù Rimini and always sold out on Goody Music Rome and Feltrinelli (book&music shop n.1 in Italy) all over Italy!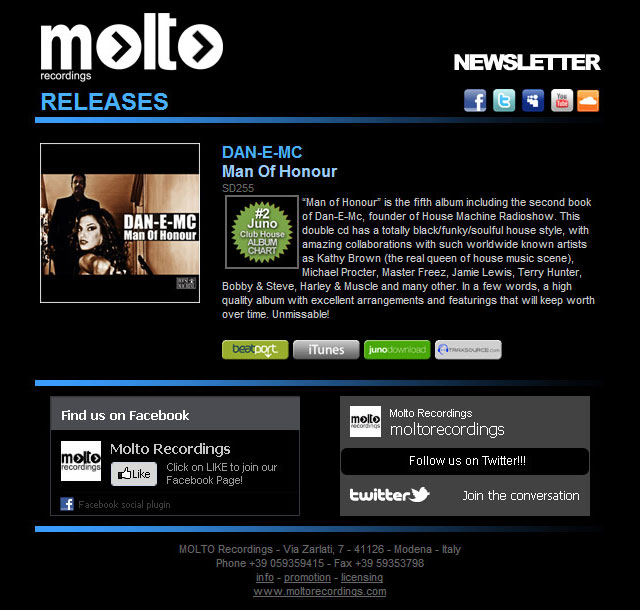 Ibiza Voice, the most important "clubber-clubbing" european website dedicated a space to this album, with this following title: Dan-E-Mc "Man Of Honour"... Of The Summer!
The first single Dan-E-Mc & Kathy Brown: "Take me high" was immediately TOP3 on Media2Radio USA Kings Of Spins, TOP20 singles sold all styles on Traxsource, TOP20 on Soul Kandi radio show on SSR Radio UK, included in the prestigious UK "Street Dj Pack" CD compilation of Global UK and during June 2013 it was on TOP5 of Clubology Chart on n.1 radio House-Soulful in Italy, Radio Party Groove.
From the beginning of September 2013, there will be the issue of the 2nd single taken from Dan-E-Mc "Man Of Honour" with a professional video-clip and backstage included, plus a Italian national TV and radio spot regarding the CD album, and from the middle of September an international Dj Contest for remixers about the new single out...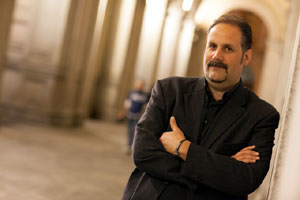 A comment about this new clip coming? It was from when I put my first vinyl on a turntable that I always dreamed about doing a song like this SATURDAY one (in a modern house key), that represented so much the real SATURDAY NIGHT FEVER atmosphere, and it was from the day I played my first vinyls in front of a dancefloor that my desire was to do a clip like this one, with all the best classic disco-funky atmospheres, based on style and elegance... I think that we did a high level job. We did our best! Soon, you will judge by yourself...
During the "Saturday" DJ Contest, this song has had 50'000 views on YouTube, was broadcasted "heavy-rotation" on Match Music Television ("Match Music Selection") the Italian dance TV, on Odeon TV (Italian national TV) and on 100 local and regional TVs in Italy and 300 local and regional radio stations in Italy. On DJ Contest definitive date, we discovered that quite 50 djs, producers and remixers adhered to it!!!

Since November 1, 2013, Dan-E-Mc is part of MTV (US head office)'s list, between the most important musical artists in the world, with personal page and zone dedicated!
On January 2014, here are the winners of the "SATURDAY" REMIX CONTEST: Andrea Mitidieri (Italy), Eric "B" Bastide (France), Mario Djust (Switzerland), Miky Falcone (Italy), Guido P (Italy).
February 2014, an agreement was signed with a new agency called TRUE CLUBBING from Perugia (Italy) and 2nd offices in London (UK) and Ibiza (Spain), with owner an old friend of House Machine SANDRINO CONTU for the management of Dan-E-Mc and House Machine public events only...
March 4, 2014 - 15P.M. ... DAN-E-MC: "GOD MADE ME FUNKY" (OFFICIAL VIDEO-CLIP)!!!
APRIL 1994 - APRIL 2014 : 20 YEARS OLD 4 HOUSE MACHINE "It's a train's story. The story begins 20 years ago as a "Local" train because of no money. But this train was very ambitious. After a little running in on destroyed platforms by imbecile guys, slowly but surely, this train has had credibility thanks to its precision, punctuality, reliability and style, and it began quickly "Regional", then "Intercity" and nowadays it runs like a real "TGV" for international destinations... During all these years, a lot of people boarded on it. All the people could board on it. Then there were the ones that do not pay the ticket, other ones that disturbed all passengers and someone that does not like the guidance of the driver (that is the same from the its first start) and all of these were put down the train at the next station (with good or bad proceedings, depending on what they did!). From its beginning, there were people that tried also to wreck it, but the solid men of law of this train, so concrete and competent, have always resolved all problems with these people, also with the ones with unexpectedly amnesia attitudes. In this period, for these ones and others, it has no sense to wait for this train in the little stations. It doesn't stop again! This train doesn't stop on these platforms, but he runs on these other ones, where is the highway! This train runs runs runs and stops only at important stations. Sometimes putting out of it an other one that disturb the good trip of all passengers. Sometimes, boarding a guy that were put off one day, but all controllers have a very good memory. This train is running to the future. Full speed! All the best cities and important destinations are interested in it... And if you want to know where you can find this 20 years old train now, it is still ready for a new start, platform number1!", DAN-E-MC www.housemachine.com
JULY 3, 2014 the 4th single taken from the successful album Dan-E-Mc: "Man Of Honour" (Molto Recordings-Universal Music) is out... This time it is more than just a little video-clip, but a real movie, as the executive producers explain it there...
DAN-E-MC feat. VANESSA JAY MULDER: "SUMMER NIGHT" (the movie).
OCTOBER 2014, release date for the ...5th single taken from DAN-E-MC: "MAN OF HONOUR" (MOLTO RECORDINGS-UNIVERSAL MUSIC), real RECORD of longevity!!! This time we get DAN-E-MC & MICHAEL PROCTER: "CAN'T GET OVER YOU" with the legendary voice of History of House music...
NOVEMBER 2014, DAN-E-MC: "A new life is coming for me. No more music. Passion is completely gone! And as we can see it, there is no present for arts, music and culture... So I can't imagine a future. I did my best until now. 31 year old dj, 20 as House Machine boss, 5 album cd, 2 books. Check www.housemachine.com. More than that... It is very difficult! Thank U all 4 the support and let's see us in my brand new project that will surprise U for sure..."
DECEMBER, 2015 PLOT TWIST! DAN-E-MC decides to come back in the scene and, as usual, he begins again immediately on top with HOUSE MACHINE the NEW radio show on the rebirthing of historical Italian Dance & House radio station worldwide known as RADIO ITALIA NETWORK. On October 2015 on Sundays at 10PM, the "Selected by Dan-E-Mc, mixed by DJ Ortega & Dekoo" show is broadcasted on the famous "Mastermix", then from November 2015 the show has its own space on Sunday at 9PM.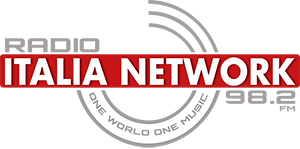 Dan-E-Mc will do an official interview to explain why he is back. DJ Ortega is his friend and old school colleague with who he did also a song production together Dan-E-Mc & DJ Ortega: "Vous avez du feu" that you can find on Dan-E-Mc albums called "Attitude" and "Blasé", Dekoo is the new surname of MRF, HM's founder with Dan-E-Mc...
Dan-E-Mc's official interview about his come-back:
On February 2016, new single taken from the album of all records called: Dan-E-Mc: "Man Of Honour": "Stupid Cupid", with featurings Master Freez, Italian n.1 historical Italian rapper and Sam Wood. Guests: Diego Casale and Fabio Rossini alias I Mammuth from national tv show Zelig (Mediaset). Guests also a pair of old Dan-E-Mc and House Machine buddies in this video like: Mirco Many as the record label's boss and Dj Ortega, the one that works House Machine show on Radio Italia Network with Dan-E-Mc and Dj Dekoo... The radio station was involved in the clip, too... Director of the movie: Fabrizio Kukò and executive producers: Daniel Carobbio and Gabriele Zeppegno.
During June 2016, end of House Machine and Radio Italia Network's collaboration in good terms.
We can say it: it's a record... 7th single taken from this album! This time it's the turn of the much more "downbeat" (Soul-R'n'B-Hip-Hop) song of the double-cd+book, with a brand new version including the voice of Dan-E-Mc (his lyrics are taken from "Man Of Honour"'s book; untitled chapter "La Definizione Del Paradiso"!!! The movie set for the videoclip is Costa Smeralda in Sardinia (Italy), realised with the support of Fondation Sardegna Film Commission – Sardinia Region, with the goal to promote the new branch of our company dedicated to organising luxurius tourism events in the paradise Italian island, and called Daniel In Sardinia (more infos directly from this site) with the friend Thierry Weber (movie director of the videoclip), this new project begins on June 21, 2016, first day of summer...
During summer 2017, Dan-E-Mc has touring Italy with his vinyls and Gabry Sax live for private events.
An interesting and complete TV interview on Dan-E-Mc's career and House Machine's History was broadcasted on TV on December 2017.
On March 2018, the release date of DAN-E-MC: "MAN OF HONOUR (BOOTLEG VOCAL MIX)" – A worldwide record for this evergreen album! 8th and last single taken from "Man Of Honour" with the song that gives the title to the double-cd+book, and with a bootleg vocal mix including the speaking voice of Dan-E-Mc, in 3 languages. The song is very original.
During summer 2018, Dan-E-Mc has touring again all over Italy with his vinyls and Gabry Sax live for private and public events for legendary clubs ans luxurius hotels.
On March 2019, we say welcome to the brand new associate, Omar Ravasio, new Marketing Manager of our company. The second and last associate is Daniel Carobbio alias Dan-E-Mc; majoritarian et Administrator.
April 15, 2021 - Dan-E-Mc's 50th birthday

DAN-E-MC & ORLANDO JOHNSON: "BRING BACK THE GOOD TIMES"
(Carobbio - Johnson-Gentilini - Zeppegno - Ravasio - Cantarella)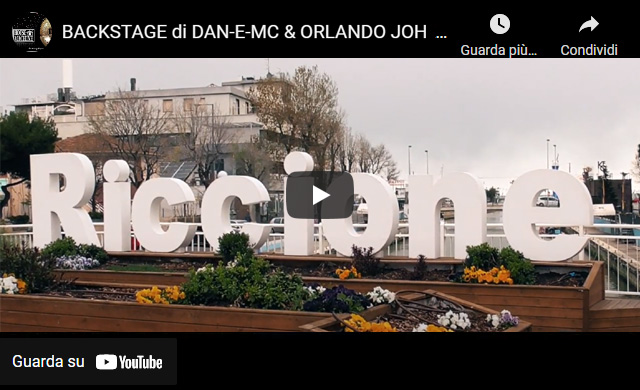 New single is coming out on December 15, 2021. Stay tuned 4 more infos+details!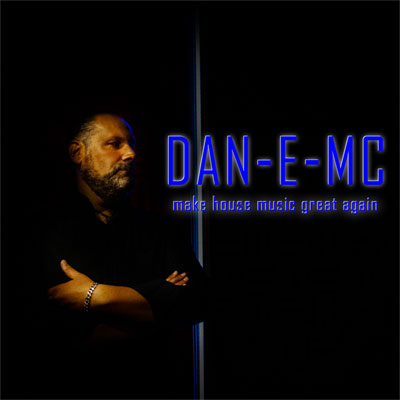 This opus became immediately TOP1
Kings Of Spins
USA, TOP8 records sold for House music on Traxsource and TOP18 Masspool DJ, the website tied up with
IDMA International Dance Music Awards
of WMC Winter Miami Conference in the USA...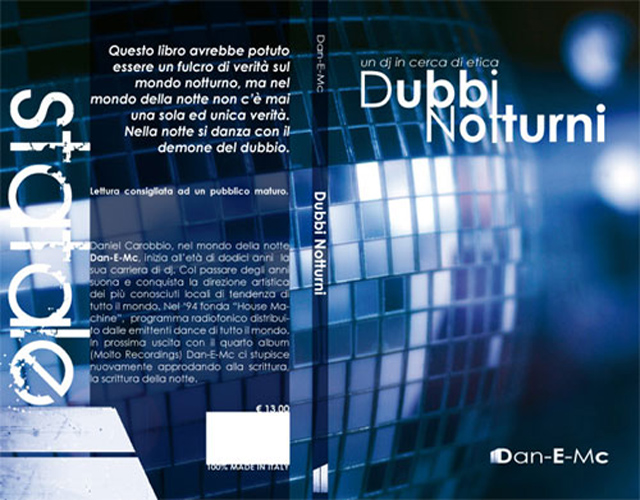 On February 2022, we discover that the book untitled
DAN-E-MC: "DUBBI NOTTURNI (UN DJ IN CERCA DI ETICA)"
(2009) is available at
BIBLIOTECA NAZIONALE CENTRALE DI FIRENZE
!!!
La Biblioteca Nazionale Centrale di Firenze (BNCF)
in Florence is one of the most important Library in Italy and Europe!
In poor words, it is now part of the History!
So, stay tuned!